Jump To Instagram Feed
News
The Process of a Floral Sleeve
February 3, 2018
I get a lot of inquires for starting a floral sleeve so I thought I would create this post as a way of answering some of the common questions I get. As a tattoo wearer myself, I love to have feminine floral sleeves that are soft but have strong enough contrast to so they look great for a lifetime. After nearly 12 years of tattooing I have concentrated my efforts on the importance of how the tattoo looks after it is healed. I believe that a good tattoo should be done in one pass, so whatever I start for the day's session should ideally be completed including the lightest values. I have broken down this process in photos that appear below using one of my favorite floral sleeves as an example. This half sleeve was done in 4 sessions. When it comes to doing realistic, soft, feminine floral work I always use photos for reference and not imagination. This lovely client wanted to have a sleeve representing her family as flowers. As you can see I did not outline the entire arm in the first session. One section is completed at a time. I dont like to stencil on more than I think a client and myself can handle in one session. There are many benefits I see to this approach, the first being that healing is much better and a second pass or touch up is not needed. Secondly in the case that if life were to get in the way and the sleeve couldnt be finished in the preferrable time, it would always look finished to others.
Here below, we have the first session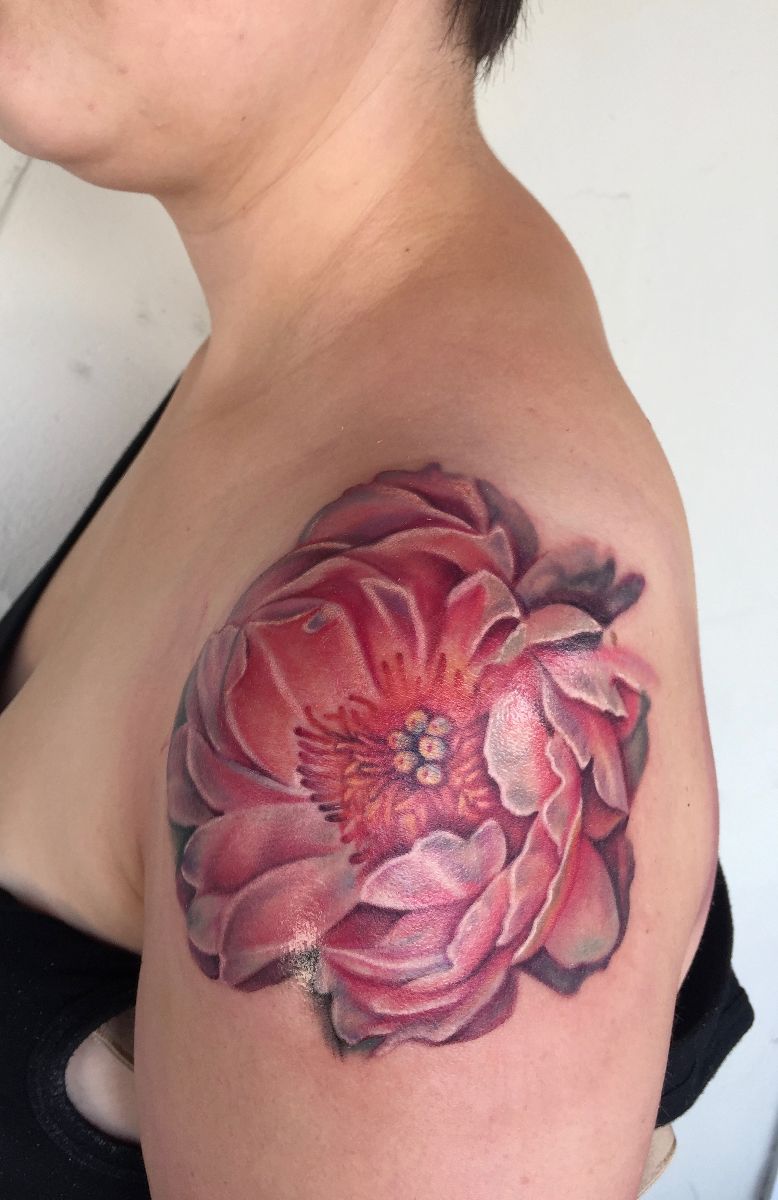 second session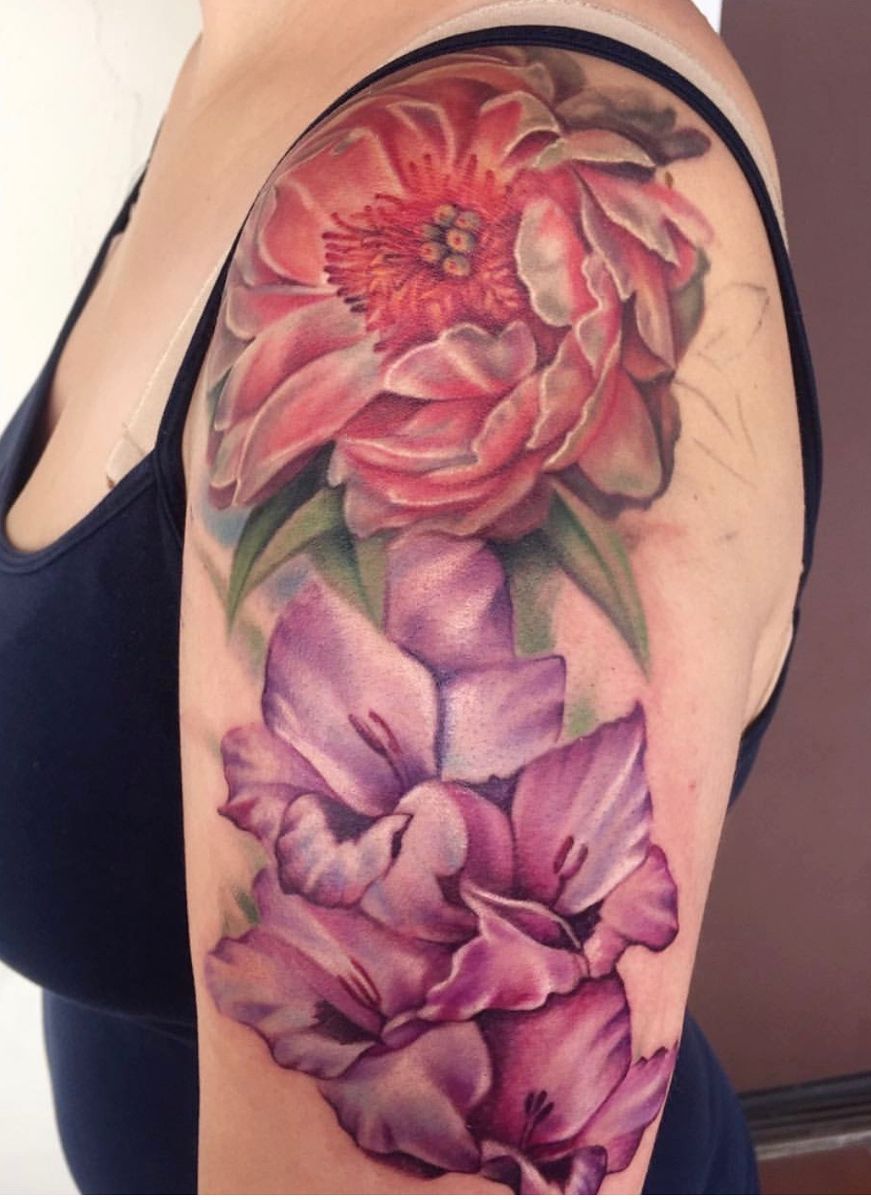 Third session: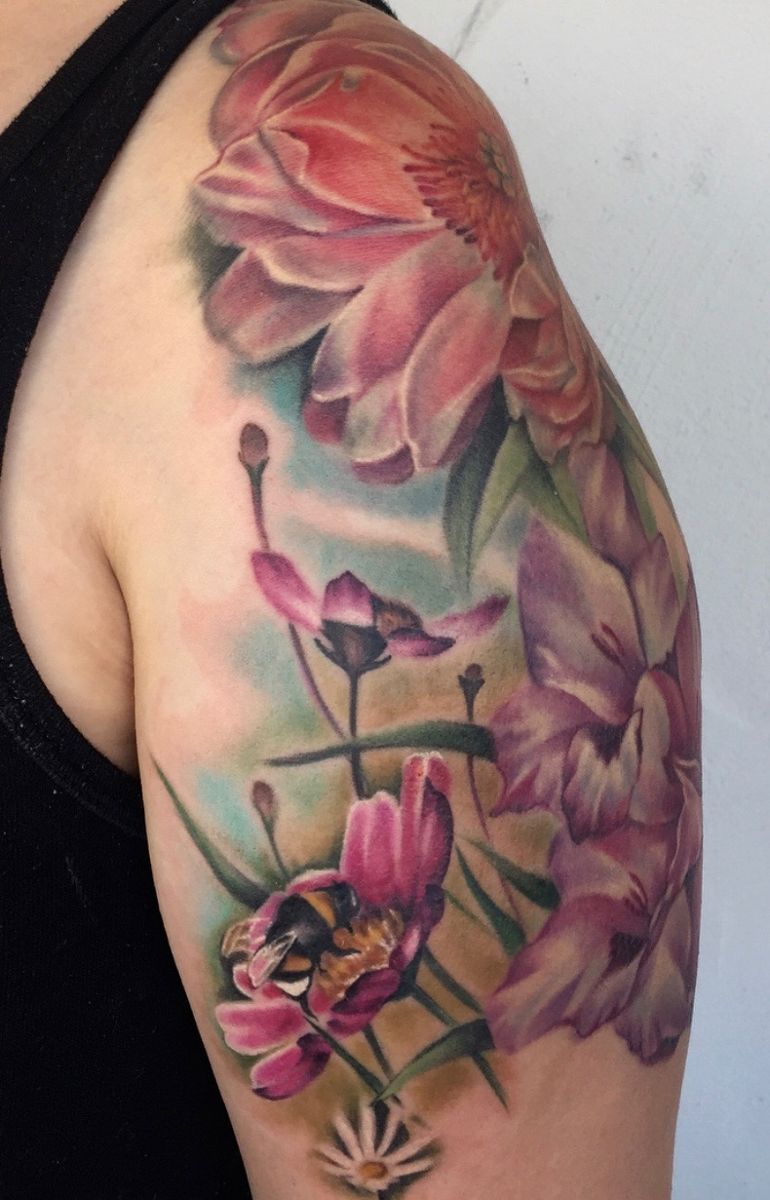 Forth session (everything is healed except the Dahlia at the bottom is fresh). Everything has had one pass only, nothing touched up. We will be continuing her sleeve in the future but for every stage she had a beautiful healed result.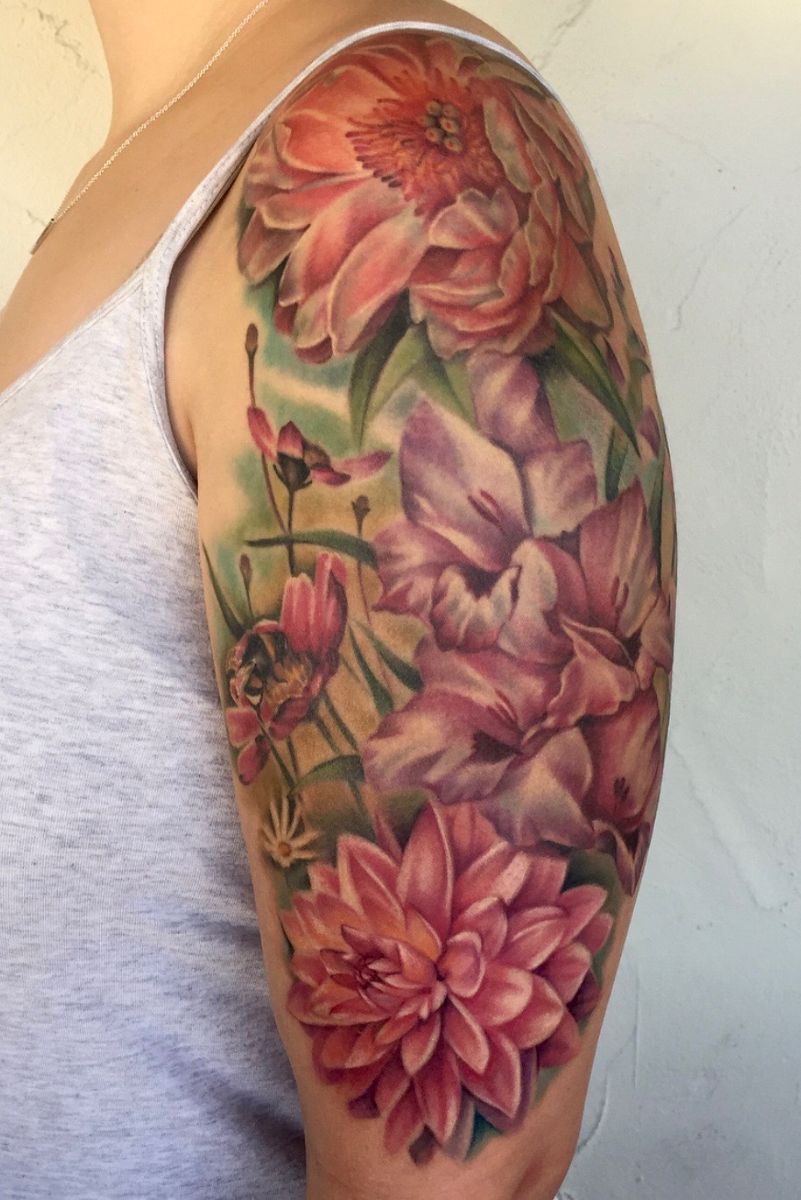 Buzzfeed
December 31, 2017
So honored to be featured in Buzzfeed's First Ink episode! Link is Below
https://www.youtube.com/watch?v=DiIyZuMCcnE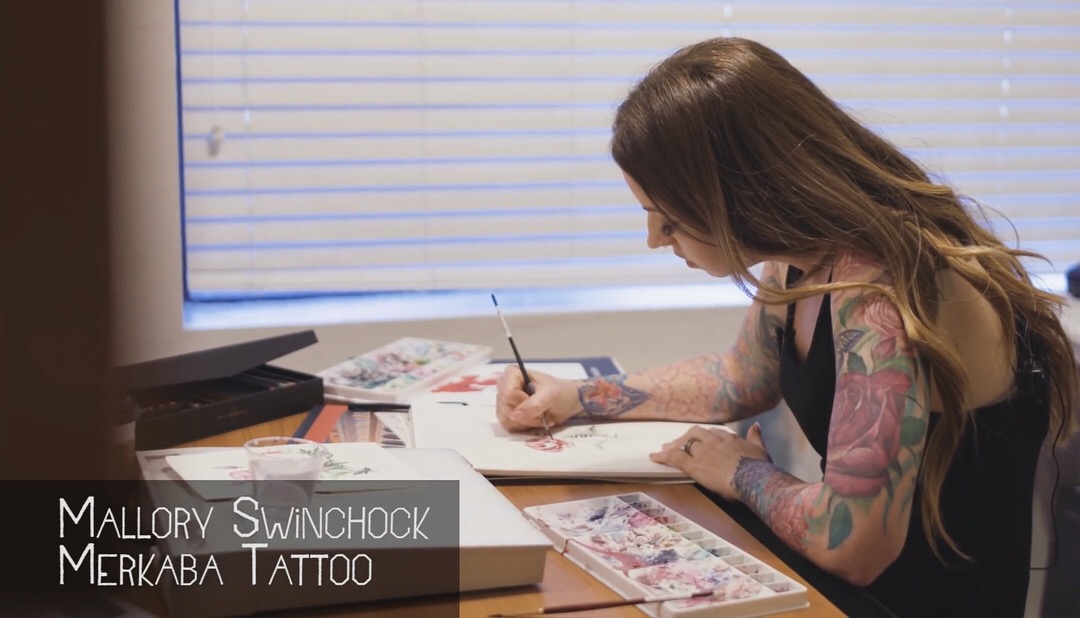 Projects
October 29, 2017
December 2016
December 27, 2016
It just came to my attention that my email hasnt been working for a week or so, If you have inquired about a tattoo and you havent heard back yet please resend it to me through the contact form. Thank you!
New Work
February 13, 2016
Just wanted to give a quick update on my current scheduling situation. I book out no more than two months at a time, instead of filling my schedule for 6 months or a year. This allows me to be a little more flexible for my current clients with ongoing work. I am able to take on a new client as I finish up in progress pieces. If you are interested in inquiring about a new tattoo please fill out my contact form. Please be aware I get many requests per week and I simpliy cannot take on all of the requests at this time. I am not doing cover ups or add ons to existing work at this time. Flexibility in terms of schedule and creativity are required. I am only scheduling weekdays between 11:00 and 5:00. I love all my clients so much I wish I could tattoo everyone, your support and persistance is so appreciated!
<3 Mallory
Grants Pass
June 10, 2015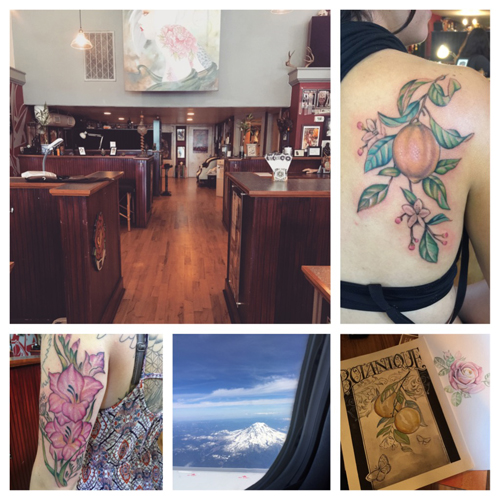 I had an amazing experience in Grants Pass, Oregon for my quick guest spot at Off the Map Tattoo. The crew was so nice and welcoming, I left feeling full of inspiration and admiration. I plan to make another visit there next year sometime in the early summer. The rest of this year is going to be a huge transition for me as I am due to have my first baby in Late September. I will be booking appointments until then and again starting in January 2016. I still have appointments available until my maternity leave. I am taking some new clients and giving priority to those who have existing work. I have been recieving a lot of emails lately, and while I am so flattered for each one, I cannot take on all of the inquiries so the ones that get priority are those that allow the most freedom and are free of existing work and not requiring a coverup. I will be doing things a little differenlty as I no longer have time to do consultations, and drawing consults for each prospective client. I have many clients that come in from out of town who I havent met and they graciously wait to see the design the day of their appointment. These tattoos are ironically the best ones I do because they allow me to spend extra time on the design work up until their appointment. Of course changes can be made to a drawing the day of the appointment to the clients liking. A considerable amount of time is spent working on the design part of the tattoo and because of this it is not possible to show a design days or weeks before an appointment. In some cases freehanding on the actual body part to be tattooed is necessay. Allowing for fluidity produces the best possible work. Please send me your ideas through my contact page and if it doesnt work with your schedule between now and late September I can put you on my waitlist for January of 2016. I am so excited to hear all your ideas. Thanks!
Mallory
New Article in Tattoo Magazine!
March 5, 2015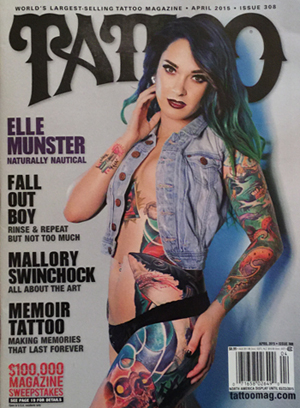 Super excited that I am featured in Tattoo Magazine this month! It is a seven page spread with images and an article about me. I am so honored, it is so crazy I used to buy this magazine when I was 14 when I was just dreaming of tattooing and living as an artist one day. I am grateful for my life everyday. Pick up your's on news stands now!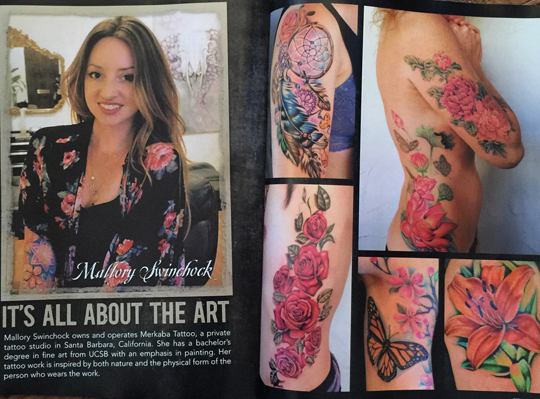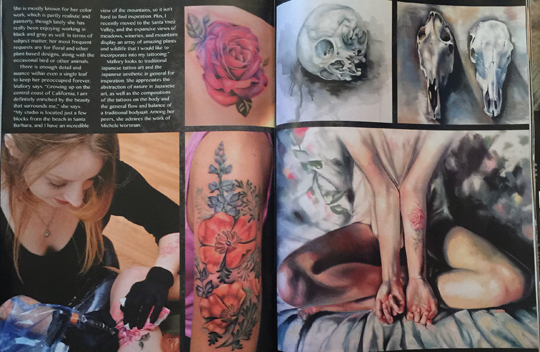 2015
January 20, 2015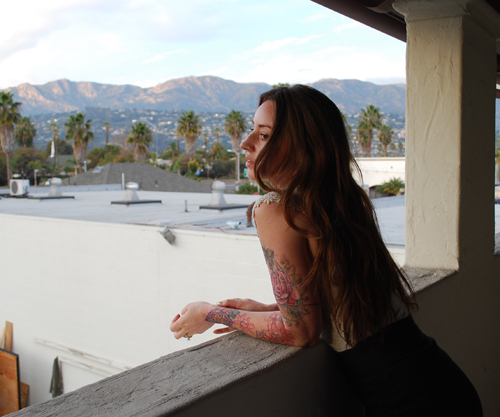 I wanted to do a blog posting earlier this month for the new years but got caught up in work so I thought I would take this rare relaxing moment to answer a few frequently asked questions. Also, this year I will be doing another guest spot at Off The Map Tattoo (Oregon) in June and (hopefully) will be attending the Paradise Artist Retreat. This year my focus will be more on the tattoos I want to do rather than try to take on everything that is proposed to me. What you see in my portfolio is a reflection of the types of tattoos I would like to continue doing. I am most interested in anything floral, animal, nature, or textile (lace) related. I am not much for tattoo trends (infinity symbols, dandilions, quotes, etc). There are plenty of shops that can take those requests, but my hope is to create more large scale work that flows with the form and is primarily done out of a love of beauty and the aesthetic. My goal is to honor the clients body with something that is beautiful and timeless. There is a lot of inspiration to draw on working in Santa Barbara and living in the Santa Ynez Valley. I would love to do more tattoos of native plants and wildlife. The only way to contact me is through my info page on this website. I work by appointment only and I am booked out at least a month in advance, sometimes more. I do not take requests for tiny tattoos as I have a minimum of two hours per tattoo. If I have a cancellation I will usually post it on my instagram page. Also I will be proposing some of my own tattoo ideas on instagram to give you guys some inspiration if you are looking to get tattooed but arent sure what to get. Much Love!
Mallory
@malloryswin_art
Back Home
October 15, 2014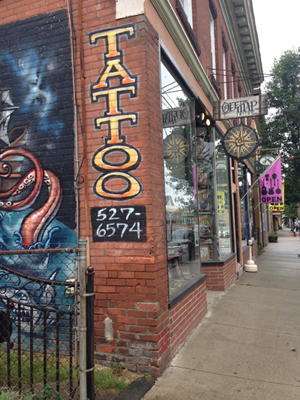 Had a great time during my guest spot at Off the Map Tattoo in Easthampton, Massachusetts. On my way home I had the chance to stop in Illinios to get tattooed by Michele Wortman at my other favorite tattoo studio, Hyperspace! I posted a few of the tattoos I did at my stay in my tattoo gallery as well as on Instagram. I will post any more updates on upcoming guest spots in the future. In the mean time it feels great to be back at home finishing up some exciting pieces as well as starting new ones! I am always interested in hearing what your ideas are for tattoos so email me through my info page for any inquiries!
New Website
September 1, 2014
Thanks TattooNOW for the amazing new website! I will be tattooing at Off the Map Tattoo, in Easthampton, MA from Oct 1st through the 4th. I am currently booked but if you would like to get on my waitlist for a possible cancellation, you can email me!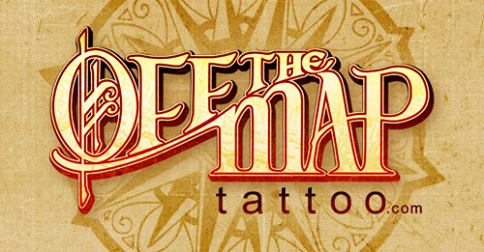 new contact info
May 14, 2014
My new email address is info@merkabatattoo.com
If you would like to inquire about setting up an appointment please fill out the form on the contact page and it will be sent automatically to that email. Thanks!
4/29/2014
April 29, 2014
I have just been made aware that I have not been receiving emails that have been sent through my website contact page. I am working on resolving this issue. In the mean time if you have sent me a tattoo inquiry through my website in the past couple of weeks and you havent heard from me, please resend it to merkabatattoo@gmail.com. Sorry for the inconvenience!
January
January 23, 2014
Much needed news update, last month I got Tattoo of the Day on tattooNOW.com. I have recently posted new tattoos in the gallery
.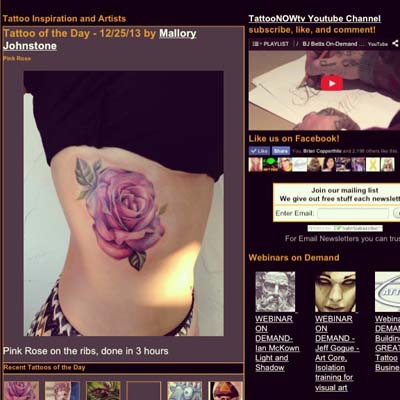 "the demand for perfection is always a sign of a misunderstanding of the ends of art"
- John Ruskin, 19th century art critic
Painting
November 4, 2013
Painting away....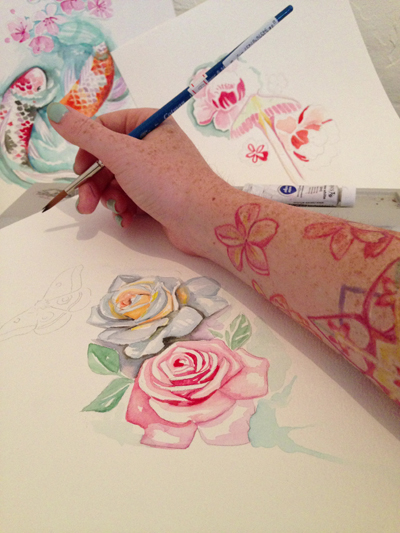 New artwork up in the gallery! I will be posting more watercolor sketches that I would love to tattoo! Thanks for looking...
October 31, 2013
Happy Halloween everyone!!! Be sure to follow me on instagram @merkabatattoo where I post all my in progress work including paintings!
New Location
September 1, 2013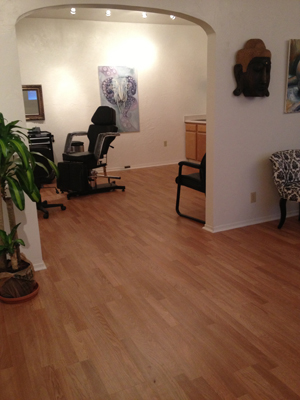 I have been at my new location in Santa Barbara's Funk Zone for a couple of months and I love it. The space is bigger and there is plenty of on street parking. It was a lot of work dialing in the studio but it was so worth it and is everything I ever dreamed of! I have a lot of paintings in the works and I hope to be involved in the First Thursday Art Walk sometime in the future. I just posted some recent work in my online gallery to check out, please send me a message through my contact page for appointment inquiries.
Merkaba Tattoo is Moving!
June 9, 2013
So excited to annouce that Merkaba Tattoo will be moving to a bigger location in the Funk Zone in Santa Barbara. It is only five minutes from the current location. I am still scheduling appointments through the month and not sure the exact date that I will be starting to tattoo there but I will keep all my clients informed on which studio to go to, my goal is to start working there by the 21st of this month. I will give the address to those who schedule appointments with me and when I have fully moved over I will offiically change the address that appears on my site. Once I move in I will work on setting up an opening party! My most sincere gratitude goes out to those who have supported me over the years and helped Merkaba Tattoo grow!
5/31/13
May 31, 2013
So much happens on a daily basis I think every day about updating my news but at the end of the day it just ends up being too much. I will make a better effort to blog more personally. It is hard for me to open up in writing because it is not how I normally express myself but as time goes by I get more secure and less afraid. In terms of news, I finally managed to officially change my name on my site. It has been over 7 months now since I married my best friend. We met over 5 years ago when he got a tattoo by me at shop in town. He is my biggest inspiration and my harshest critic and everything I create is in a sense for him. Not only is he my support but he also graciously gives me the space to grow as an individual and be my own person. I felt it necessary to honor that by changing my name officially. I also added a store page to my site where you can purchase a tattoo deposit, this makes it easier for my clients who are traveling from out of town. I also created a line of hoodies by American Apparel with my logo and tattoo design on them, they are super cute and comfy and are all unisex. I am in the process of creating more apparel an I will post about it soon. I am so grateful for the life I have been given and the ability to create on a daily basis. Not only do I love tattooing but I also love the emotional connections I experience with each of my clients. I feel really good about the atmosphere I provide for them, it is so important to have that connection. I am trying to get back to every tattoo request that comes my way through text, email, facebook, phone calls, and instagram. Unfortunatly I am just a one woman operation so it may take a few days to get back to you but I promise I will!!! I have been looking diligently for a bigger studio space the past several months. It is my goal to have a space that I can have gallery shows and maybe participate in first Thursday, we'll see, putting the intention out there, hope the universe will respond. It has been over 3 years now that I have been in business on my own and I want to thank everyone from the depths of my soul for all the support, even those that dont get tattooed by me but share my work with others, I really appreciate it.
March
March 2, 2013
A new painting has been posted in my art gallery, more to come soon! Also I will be out of my studio from March 24th-March 29th becaue I will be attending the Paradise Artist Retreat in New Mexico hosted by tattooNOW. I am taking appointments for mid March and April!
Happy Holidays!
December 17, 2012
I have gift certificates available for anyone looking for last minute gifts for the holidays! Also, I am now on instragram @merkabatattoo! I recently got married in October and my new name is Mallory Swinchock, so if you are looking me up that is the name I will go by from now on. Here is a pic of my studio, I recently revamped.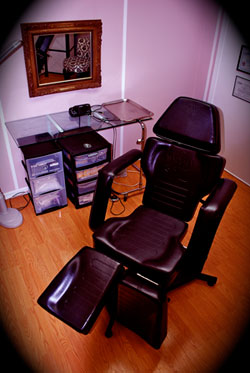 September
September 18, 2012
Summer is coming to an end and it is the perfect time to get tattooed! I would love to do some flower tattoos, fantasy inspired or anything nature inspired in black and grey or color!
Summer
July 12, 2012
Hi everyone! Exciting things are happening, I am planning my wedding for October and in August I will be heading out to Hyperspace Studios to get tattooed by my favorite artist Michele Wortman! I am feeling inspired to start more pieces so please send me an email with your thoughts!
In progress
May 4, 2012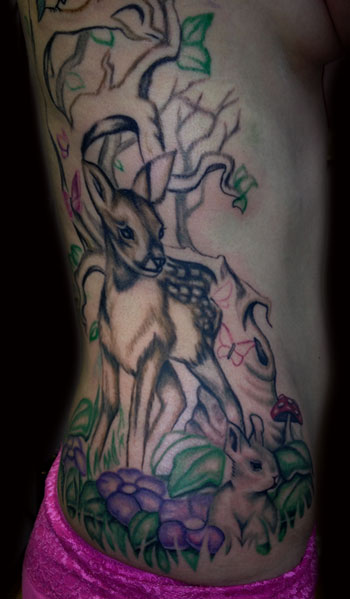 Bambi side piece in progress. This first session took about 8 hours. I really commend her for sitting that long and for driving down from Berkely to get tattooed! We will be finishing it up next month!
Spring!
March 22, 2012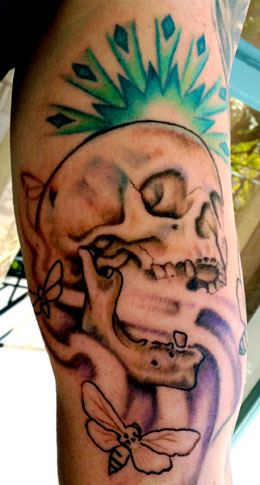 Hey guys! My schedule is changing next week, I will be able to take appoinments everyday except for Mondays. This will be the same through the middle of June. Contact me for more info on getting tattooed! Here is a piece I started a few days ago, it is only 3 hours in so far but I wanted to show an in progress piece. Probably another 3 hours to go.
2012!
January 2, 2012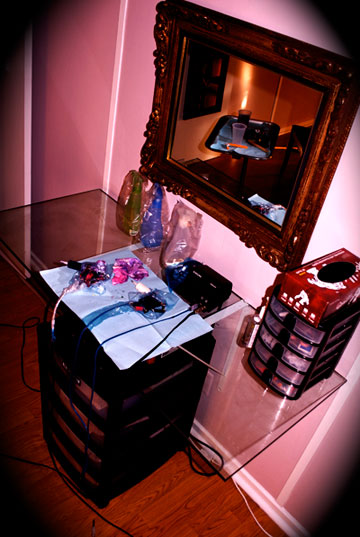 Happy New Years! Im excited to start off 2012, finishing off large pieces and getting new ones started! My schedule is about to change in a week, I will not be available to come in for tattoos or consultations Tuesdays or Thursdays through the middle of March, but other than that my schedule is open. I also recenctly updated my About section with more info on tattoo procedures so feel free to check it out!
Sketches
September 16, 2011
I just updated my original art page with sketches of tattoos that I have been wanting to do. These are portfolio pieces that I am offering at a discounted price. I will be adding more every few weeks so check back for more updates!
Email
September 6, 2011
Hey everyone, my email has been down since Saturday. I have fixed the problem but if you have sent me an email since then, I have not yet recieved it so please resend it to me. Thanks!
Merkaba Tattoo
June 22, 2011
After owning a studio for over a year now, I finally decided to give it a name. My shop is now called Merkaba Tattoo. I could talk about the meaning behind Merkaba forever but to keep it brief it stands for "Light, Sprit, Body". It is not a typical tattoo shop in that it is more of a private studio and I work mainly by appointment only. I am the only tattoo artist that works there and I do not do piercing. Because I have been busy tattooing and drawing lately I havent had much time to paint but I plan on securing an art show sometime in July in Santa Barbara. I am also working on a sketch book of tattoos I have been wanting to do and these will be offered at a discounted rate. I will post a few pictures of them in my art gallery soon. Thanks for checking out my work, if you would like to schedule a consultation you can call me at (805)570-1395 or email me at maljstone@aol.com.
Update
April 9, 2011
I am honored that a painting I recently uploaded titled "Satelitte" is being shown at Off the Map Tattoo in Easthampton MA on April 9, 2011. It will be a part of a show called "Tattooed Goddesses: Shifting the Conciousness Towards Positive Images of Tattooed Women". My artwork is still showing in the Atkinson Annex through May so if you are in the art department at SBCC check that out. The exhibit will be having another opening (reception) the night of the student show on April 15th. In other news, I was also recently admitted to UCSB to finish my B.A in art studio. I mainly have upper division art and art history classes left to take which is going to be awesome. Tattooing is my main priority and my schedule is still going to be flexible so if you would like to set something up send me an email, I can usually get you in any day of the week.
Art Show
February 18, 2011
A collection of my paintings will be featured in the Atkinson Annex Gallery for the next few months. The gallery is located in SBCC's Humanites building and is across from the main Atkinson Gallery. There will be a reception Febuary 25th (Friday) from 5-7 pm. The Jenchi Wu (amazing ceramics artist) is opening the same night. Please come by and check it out! I have been working on several new paintings, I hope to post shortly.
December
December 15, 2010
I would just like to say how amazing this year has been and thank you to everyone that has supported me! The fall semester has ended and while Im excited for a break, I'm really going to miss being in a painting class for the next 6 weeks. Rafael Perea was my professor and will be again next semester and if you are interested in taking a painting class and you live in Santa Barbara, I suggest you sign up for one of his classes! You can view his work at www.RafaelPerea.com. Also, if you are scrambling for Christmas presents, keep in mind I do have gift certificates. It's important to support your local small businesses this season. I will be out of my studio from December 27th-January 1st for a week long snowboarding trip with my amazing boyfriend, and I have a few open appointments before then still available. Happy holidays! By the way thats a picture of me tattooing my awesome client Sarah who looks super zen.
Oct-Nov
November 10, 2010
Hey Santa Barbara (and elsewhere)! Ive been so busy the past few months I forgot to update. I turned 23 in October! I also posted a few new tattoos and art pieces so be sure to check out those galleries. Ive learned a lot in my painting class over the past few months and Im starting to venture into abstraction which is exciting and liberating. I have plenty of openings for tattoos this month so give me a call if you would like to set up a consultation. The A Perfect Circle concert in LA was so amazing! I really lucked out getting in to that show. On a sad yet positive note, my best friend's mother lost her 7 year battle to Breast Cancer last night. She suffered more physical pain than anyone I've ever known and is finally at peace. Its a popular notion to think that breast cancer is something that everyone survives these days which isnt the case, so be aware ladies and get checked! I am working on a portait painting for her this week.
September
September 23, 2010
Hi everyone, I would first off like to thank Tattoonow for doing such a fabulous job on my website! September has been very exciting. I started out the month by spending a two days at Hyperspace Studios, getting my sleeve worked on by my favorite artist Michele Wortman and sat for some 16 hours. I also started a painting class which is every Friday for 5 hours for the next few months, so I will be updating my artwork gallery more often. This past April, I opened my own studio in Santa Barbara and I would just like to thank all my clients who have been so supportive of me, I very much appreciate it :) Lastly I just found out that A Perfect Circle is playing three days in a row in LA! So elated!
Updates
August 31, 2010
Add News Updates Here!